What the White House Means When It Says Housing Is Infrastructure
Posted by Blake Edwards on Wednesday, June 2, 2021 at 9:02 AM
By Blake Edwards / June 2, 2021
Comment
What the White House Means When It Says Housing Is Infrastructure
The Biden administration wants to spend $318 billion on housing in the American Jobs Plan. Here are the full details.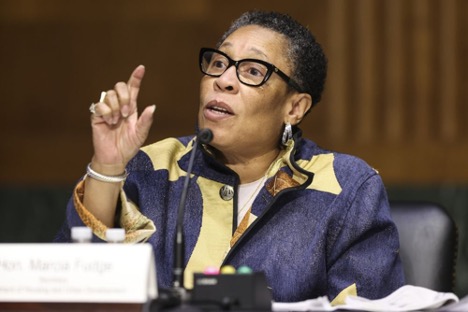 Marcia Fudge, U.S. secretary of Housing And Urban Development (HUD), will discuss plans to spend $318 billion on housing in the American Jobs Act Wednesday.
Housing Secretary Marcia L. Fudge is making a stop on Wednesday morning at 18th and Vine, the intersection at the heart of Kansas City's historic Jazz District. Backed by Missouri leaders, she'll deliver remarks on a theme that she's been repeating since her confirmation, in speeches, during testimony and over social media: "Housing is infrastructure."
For the first time, Fudge will explain in detail the theory behind the refrain. On Wednesday, the White House is releasing its full plans for a surge in new housing spending as part of the American Jobs Plan. The proposal would invest $318 billion, including $105 billion in tax credits not previously disclosed, according to new details shared with Bloomberg CityLab. The goal is to expand the supply of safe, affordable housing across the country, creating thousands of jobs along the way.
According to White House officials, the Jobs Plan will produce or preserve more than 2 million affordable housing units, which would make an appreciable dent in the national housing deficit.
Through investments in funding and tax credits — plus brand new federal initiatives — the Biden administration hopes to boost the affordability of existing homes while also increasing the number of new affordable homes built every year. Currently, that figure lags behind demand by hundreds of thousands of dwellings.
"The point of this plan is to make a significant down payment to address that supply gap, which reverberates through the market, especially at the low end," says Erika Poethig, special assistant to the president for housing and urban policy at the White House's Domestic Policy Council.
And while Republicans and Democrats continue to debate the shape of the final infrastructure package, there is broad bipartisan support for the elements that comprise the housing portion of the legislation, administration officials say.
The Jobs Plan alone cannot solve the housing affordability crisis in the U.S. Some 11 million households pay more than half of their income toward rent, a level of precarity that stifles dreams and productivity alike. Millions of children live with exposure to lead paint in substandard housing. America's housing crises — all of them exacerbated by Covid — don't even look the same from one place to the next, with coastal cities that cannot produce enough housing and legacy towns where home values are underwater.
Instead, supporters say, the American Jobs Plan will serve as proof positive that the federal government can attack these problems from many angles — with benefits for social justice, the environment and the economy.
The main thrust of Biden's housing commitments comprises some $213 billion in spending for a variety of programs at the U.S. Department of Housing and Urban Development. This includes $45 billion for the national Housing Trust Fund, a dramatic expansion for a program that serves the very poorest households, those whose incomes do not exceed more than 30% of area median income; the Housing Trust Fund is one of very few programs to provide such deep subsidies. The plan also means $35 billion for the HOME Investment Partnership Program, a George H.W. Bush–era initiative that gives states and localities grants for affordable housing. The Biden administration will plunk $2 billion each into the Section 202 program (for the elderly) and project-based rental assistance (subsidies tied to units, not specific tenants). New project-based rental assistance agreements will be the first issued in more than 20 years.
On top of this tranche, the White House is introducing on Wednesday another $105 billion in new and expanded tax credits, which help to incentivize renovation and construction projects. This purse includes $55 billion for Low Income Housing Tax Credits (LIHTC), the main engine for the construction of low-cost apartments. Between the expanded LITHCs and similar programs, the Jobs Plan aims to spur the construction of some 500,000 to 600,000 low-cost apartments over the next five years.
This $105 billion sidecar component to the housing plan will also introduce a brand new tax credit based on the Neighborhood Homes Investment Act, a bipartisan proposal sponsored by Maryland Senator Ben Cardin and Ohio Senator Rob Portman. Modeled after LIHTCs, this $20 billion tax credit program would cover the cost of purchasing and rehabilitating homes in areas where the cost of doing so is higher than the actual value of the homes. About 22% of metro areas nationwide and 25% of non-metro areas qualify for these investments, according to lawmakers, making it a program that can span geographic and partisan divides.
Housing officials say that the bill isn't merely a sop for high-cost coastal cities. The Jobs Plan includes $10 billion for a new Community Revitalization Fund for investments in parks, incubators and other shared amenities, as well as $250 million for Main Street grants to spark economic activity in America's small downtowns. These economic development efforts are meant to increase home values and productivity in distressed or overlooked communities. Funds for rural housing, too, will see a spike under the Biden plan, with programs that work in tandem with counterparts at the U.S. Department of Agriculture.
"This proposal in particular is an opportunity to invest in small- and medium-sized cities," says Peggy Bailey, senior advisor on rental assistance at HUD, referring to the new Community Revitalization Fund. "Not just in housing, but in business districts in those small towns."
Several aspects of the bill have already garnered critical attention. The Jobs Plan will generate a $5 billion zoning reform program based on legislation introduced by Minnesota Senator Amy Klobuchar; this fund will be used for local housing policy grants for cities and counties looking to ease restrictive zoning. Progressives and libertarians alike have been searching for a role that the federal government can play in breaking down exclusionary barriers to housing that result in segregation and concentrated poverty. This might be one of the more closely watched programs in the bill, if it comes to pass.
The Jobs Plan also devotes $40 billion to public housing, for badly needed investments and upgrades. That number falls short of an estimated $70 billion in capital needs faced by public housing. Some progressive lawmakers have called for more spending to upgrade public housing — a great deal more — to say nothing of activists who would like to see the administration go all in on new public housing, not just upgrades.
Biden officials say that sky-high costs for public housing needs are out of date. "We haven't done an updated estimate since the 2010 estimate on capital needs," Bailey says. "We know the need is higher now given that time has passed, but we also know that we have done work."
More funds will be added during budget appropriations, Poethig says; the Jobs Plan will set a base that the regular appropriations process can accommodate. This is especially true of a $68 billion purse for mostly-new initiatives for weatherization, energy efficiency upgrades and home rebates.
One signature element of the Jobs Plan is an investment in Indigenous communities that the Biden administration describes as unparalleled. While relevant funds are laced throughout the housing portion of the Jobs Plan, it specifically includes $2 billion for Indian Housing Block Grants. Parts of the bill strengthen the relationship between HUD, USDA and the U.S. Department of the Interior in order to make Tribal housings funds more visible and available.
Housing is infrastructure, Fudge and other officials say, because homes are so interconnected to pressing issues affecting equity, the economy and the climate. The goal of the Jobs Plan is to improve social mobility and environmental sustainability while creating jobs and solving problems where people live.
"From HUD's perspective, our homes are our bedrock and the brick and mortar institutions that lay a foundation for people," Bailey says. "Without affordable housing, families are unable to thrive, which makes housing as fundamental as streets and other pieces people call 'traditional infrastructure.' Housing is part of that."